Infragistics recently launched Quince, a user experience pattern explorer. Conceptually, it is pretty similar to Adobe Kuler, but in many ways...I find it better.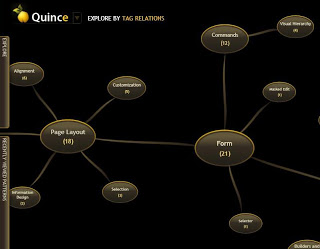 To begin with, it is a reminder of how advanced the capabilities of Rich Internet Applications (RIA) have become. I also like different options to search & visualize.
I guess, maybe they are different kind of user experiences, and probably comparing them is not fair. In any case, Quince is a clear example of where Silverlight is headed....
Perhaps, it also indicates the upcoming entry of typical .Net/IT programmers (non Flash types) who were limited to business app programming into more interactive & UX developer/designer roles.
Unfortunately, it may also mean a fair amount of fancier UIs, hopefully with reasonably well designed UX.
We all better pay attention to Quince, lest our users Wince ;-).
Thanks!