I saw this rather unusual sign on the restroom wall at the
(on the Canadian side). I wondered about the reason behind it. Who is washing feet in a bathroom sink at Niagara Falls and Why?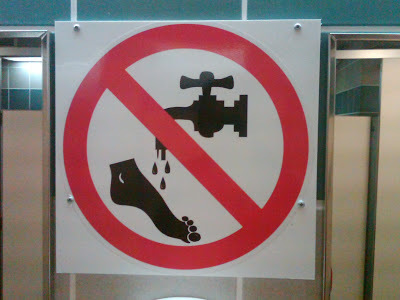 It was later that I realized that it may be related to the ritual of ablution common among some religion, and that is when I realized that perhaps Niagara Falls does not have a praying room facility. So, visitors to Niagara who want to pray probably come over to Floral Clock, and decide to wash their feet before prayer as well.
It is always interesting to see how often seemingly unusual things almost always lead back into Anthropology. Would the visitors be better served if there were directions & phone number to nearest public praying facilities for various faith instead. I wonder in what other ways can one address this.
Oh well, but you have been cautioned, don't wash your feet at Floral Clock ;-)